I have lots of story to share during our Texas vacation. Like what I've said on my latter post, we left Bentonville at around 6:45 in the evening. Our travel is 6 hours and so it's obviously a long way drive but not new to us coz we've been there before.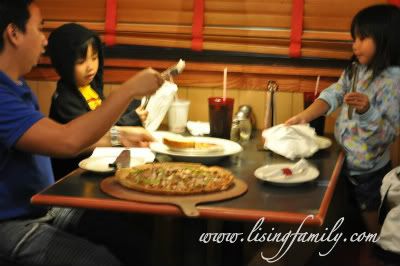 Dine in @ Pizza Hut Mcalester
medium pizza is too big for us 4…we didn't finished it.
On our way there we did stop over Pizza Hut! Kids' choice coz they said they wanna eat pizza! Hmm…they are not into pizza but I guess they are exploring and husband and I loved that. It's better if they are eating any kind of food so we would be able to know early if they have allergies so we can bring them to an allergist austin and atleast to know what's they are allergic with before the school starts. That will be the time they will be choosing their own food. Aside from pizza I ordered some spaghetti.