We were supposed to visit a park last weekend as planned since it's not that hot anymore but it rained so we just had our lunchdate at Famous Dave's. After then we headed to a camera store and Daddy bought me a remote control for my SLR (which is not working when we tried at home so he has to return it back I dunno when). We also had our grocery time in Walmart where I forgot some of the stuff I need to buy coz we were panicking about ANDY– our car that died on us that very moment (another story). After Andy's been checked by some men that husband has to call, we rented  some Blu-ray DVD's that didn't work in both  Samsung and Macbook laptops of ours because I didn't know blu ray dvd needs a blu ray player, LOL, stupid of me so husband has to go back to that dvd dispenser in Walmart to change it and finally watched it that night.
We have some slight misfortunes that day but we end up happy being together and spent our family weekend cozy and safe! Here's some of our photos during our weekend family time!
Kids busy with their kiddie activity while waiting for our lunch
our food – meat combo is actually more than enough for four of us for the price of $13.99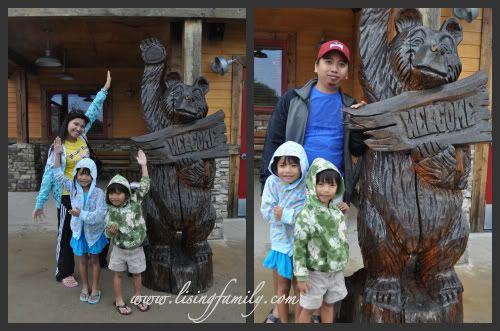 My kids want to take home the bear! 😀
My kids' first time to see a real BIG PUMPKINS displayed in Walmart 🙂
Thanks for sharing!