Happy Family Time! How's the weather in your place? I hope everybody had a great weekend no matter how the weather wsa coz we were with our family.
We had a cold weekend here in Arkansas again, we weren't able to go to the park but we still enjoyed being together. Last Friday we went to kids school and have them enroll during daddy's lunch break. After that, daddy dropped us back to house and wait for him in the afternoon. Then another start of movie marathon in the evening till dawn.
Saturday morning we went to Wallmart  and do some shopping for the 2nd half of the month grocery list, you know, our fridge is already empty! LOL. Shopping is always a fun thing to do with the whole family, when we were still in the Philippines, shopping is one of our bonding time. We go to SM every 2 weeks and the kids enjoying picking groceries, playing with the pushcarts and having dinner after. In here, we haven't experience to dine out yet after shopping coz wallmart is just a few miles away from home so if we gets hungry, we were just going home after and eat there. 😀 Heading back home, daddy let me practice driving in our village for a couple of minutes with the kids keep commenting at the back seat like "yey mommy is driving!" I wonder what's so exciting about it or maybe they can feel my excitement too that's why they are reacting like that, lol. That's my first time to drive again after 10 months, so expect me to be like a beginner again :)) After that, the four of us carried all the groceries upstairs, everybody helped me put the groceries into their places while me preparing our lunch. If only we have video in our house, you will surely enjoy the scene. It's so cute when everybody is helping each other and it's also one of the most valuable family time! After lunch everyone started their own thing, daddy in his NBA thing watching updates, kids playing and playing while me blogging.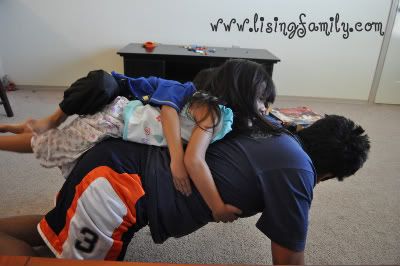 (kids and Dad playing after breakfast yesterday)
(Kids and Dad before going to wallmart)
Today is Sunday in here,  daddy has a plan on going to Pinoy Store today and go to the park again after if the weather is gonna be fine this afternoon. Let me just tell you the continuation if we can make it today 😀
Have a nice Day!