Hello there fellas! How's your weekend? It's rainy Sunday morning here and the wind was scary us usual. Yesterday was supposed to be a rainy day so we didn't go to any parks but daddy asked us out and have some lunch date with the kids. Kids were so funny when daddy said "kain tayu sa labas" Ishi said, "yey kakain sa labas…magpi picnic tayu!". She thought when you say kain sa labas means, you are literally going to eat just outside the house and that's picnic for her! Anyways, husband had a hard time looking in the net where to bring the kids, I asked him to find somewhere that kids can play like Mc Donalds but of course I refuse to eat there, lol.
Picture at with Andy before we go…
So we end up in Pinacle Hill and still thinking where to eat…kids are in a hurry!
We chose to eat in a chinese restaurant because of the yang chow – Ethan's favorite!
Hmm….Ethan really love yang chow!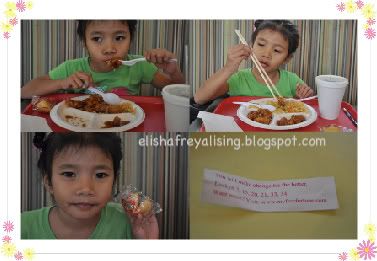 Ishi wants to try using the chopsticks!
After lunch, kids had fun playing outside the foodcourt. It's their first time to play here and they enjoyed it coz it's something new to them again, they bond with different kids and met new friends. Husband and I enjoyed looking at them while they are playing with other kids, how they interact using pure English language. We are the ones who are excited for them. This is one another great family time for us. Hope we could do it again next time!
Kids @ play
Share you "
family time
' with us now, enter you link and please do leave a comment. Thanks!