I was checking on the weather here  everyday, just to be ready in every possibility (had a trauma with the Japn incident already) aside from the fact that I am so afraid of tornadoes and thunderstorms. Yesterday was a fine weather, not so cool but windy. Kids and I were watching in the computer after lunch. Few hours later, it rained so  I stopped watching to close the window. While closing the window I saw some snow pouring with the rain so I called the kids and said "it's snowing!". The kids came running so fast but they didn't see the snow anymore coz there's no more snow coming down but a candy like shape  hail instead (hail is formed in huge cumulonimbus clouds, commonly known as thunderheads). There was a hail storm! I was so shocked yet excited to see those falling rock-like from the sky. I am like, Oh, my those ice were huge (I dunno how it's called that time so I am calling it ice until one friend commented in my FB wall about my post)!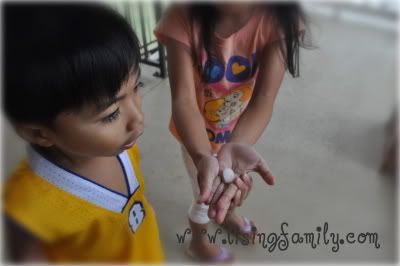 Look at this hail ….it's like a stork candy!
The wind was so strong, the rain and the hail were pouring together so hard…. I never thought of something terrible could happen to Andy – our car, until Ethan said "panu na si Andy?"  (what will happen to Andy now?). How come I didn't thought that this hail could possibly damage our car and my four year old son did?!? And so I called daddy but he's in a meeting when he answered, I never had a chance to ask if there's a hail storm in Lowell where he is working. After 2 hours daddy called and said he is coming home already, I was expecting lines like this "Oh Sh!t Andy was fucked up!"m but NO, he didn't mentioned anything about Andy so I asked about it and YES! Andy was lucky, he didn't experienced the hail storm! Hail storm didn't strike Lowel!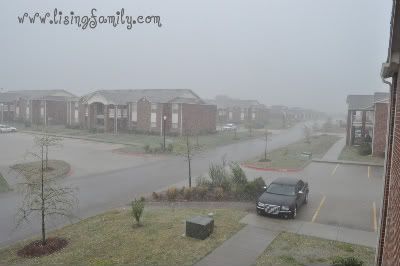 storm shot from our terrace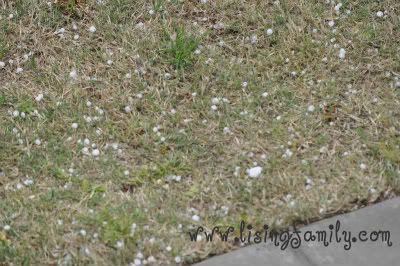 hails on the ground (shot from 2nd floor using my 200 mm lens)
I guess were still lucky in Bentonville coz you know what? If you take a look in the picture below, you can see the golf ball-like hails on the ground in Springdale.  A friend is working in that area and his car was not so lucky to evade the golf ball – like hails fallen from the sky.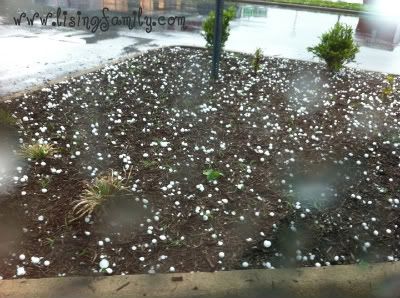 (photo from a friend in Springdale)
This was our first time to see a falling ice from the sky so kids and I were enjoying it but honestly behind that excitement, I am also having this paranoia whenever there something new happening in my surroundings.
I'll just put evrything in God's hand, I know He'll always protect us. Take Care everyone!