1 month before I leave the Philippines, I set different dates with different friends while doing my errands. I made sure I have to say bye bye to them especially to those people I haven't tagged along lately. I thought 1 month is too long, I actually can't wait to fly here already but as those days passed by, I felt like I am becoming more lonely yet excited. Lonely because I will surely miss these people. Excited of course because I already want to be with our daddy.
I will never forget these people who showed their love to me before I left. The words "i will miss you" is very touching already, but giving me a surprised despedida party is a different level. I felt like I am so special and loved. For 29 years of my life, this is  only 2nd surprised party I ever had  but I feel so much blessed, blessed with friends that loves me. I am very thankful to these guys! I will forever treasure this memorable party! Thank you thank you so much!
I was browsing again in our pics and I can't help myself to laugh whenever I remembered how it was happened! Joy invited Nora and I to watch a show that night as a treat for me. I was dressed up differently, it's my first time to wear hills after a long time with matching scarf. And when I entered (3o minutes late prior to our call time) Joy's unit at Legend Villas – our meeting place, I was thinking how come Nora wasn't there yet knowing her for being very punctual and one more thing was Joy wasn't dressed yet. My mind didn't bother to think about it but asked Joy instead why she's checked-in in legend villas again. She said her family just wanted to stay there and then asked me to come with her upstairs so she could dress up already. While going inside the room I was shocked when Joy turned on the light and I was like "aaaaaaaaaaaaaaaaaaaaaaahhhhh", not because I was surprised but because I got startled at first. Hahahahha! Imagine you were busy asking questions and suddenly these bunch of mommies popped out and shouted "surprise"!
Oh so sweet! I have this aftershock reaction that I don't know what to say nor what to do…They are so CUTE! They were all wearing pajamas! My dream party! I don't know if I told them about it already, PAJAMA party is actually my dream party! Thank you again mommies! You are all sweet! I love you!!!!
Thanks to Joy whom I think is the mastermind, she provided the venue – Legend Villas Hotel! I was lucky I have met you! Mwah!
To ALL that was there that night, Peh, Joy, Nora, Bedai, Jenny, Jingkie, Lyn, Tetcha and Jenny…thank you for all your effort. Thank you for the wonderful decors, yummy foods, wines, cake and for some additional gifts! Thanks for the Swarovski Crystal beads or whatever how it calls, I just love it Tetcha! Thanks or the dangling earrings Jenny even it seemed like your favorite, you still gave it to me and I appreciate it. Thanks for the lens cleaner Nora and thank you again Joy for my bonnet and scarf, mwah! Thanks to all of you!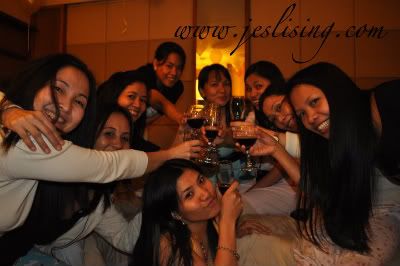 more pics in my other blog 😀
Till we meet again! I will surely our bonding!