Family Time!!!
I am sorry If I am posting late for our Philippine participants for the past 2 weeks. I keep on saying MONDAY but it's actually TUESDAY in there. If you prefer it MONDAY then I'll be doing my post every SUNDAY evening here and MONDAY morning there, That's how much I love you so be it. MONDAY alright! 😀
The weather yesterday was very nice to us, I guess He knows it's our only family time so we didn't waste the opportunity. After lunch we went out to look for another park near our place but before that, we went shopping first for kids needed a new rubber shoes.  We also gave 'Andy' her needs – a gas and a bath. Hooray to our 'Andy' coz it was her first bath, LOL.
Kids were very excited (and me too) to visit another park this time. We saw different kinds of parks while strolling there were parks for pets and a park for those who wanna walk or hike. In the end we still chose a park with a tikes so kids can able to play with the slides and sands (both their favorite) but walking or hiking is fine with them too it's just that we're not ready for that.
As usual I am the photographer so we have no complete family picture that day…here's some of our photos last Saturday.
my kids and their daddy exploring the park
kids finally got what they wanted 😀
they can play sand here, love it 😀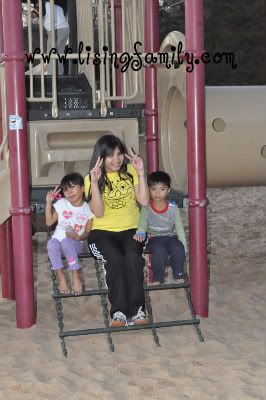 me and my kids
solo shot by daddy 😀
What a wonderful Saturday for us, hope we could have a new adventure every weekend!
How bout you? Wanna share your precious family time with us? Please grab the button and submit your entry now.